SPECIFICATIONS

---
Handcrafted in Rotterdam

production time 1-2 weeks
Dimensions height 19 cm, width 27 cm, depth 5 cm
Strap removable and adjustable, length 95 - 120 cm
Hardware solid bras (nickel plated or gold plated)
Color optionally

There is an extra zipper compartment inside. The strap can be attached to the rings next to the compartment. The clutch can be worn in different ways: with or without the strap and long or short by adjusting the strap.

A one-of-a-kind clutch bag in your own chosen color can be made by order. For information regarding price and colors please send an email to info@elenbaasatelier.com.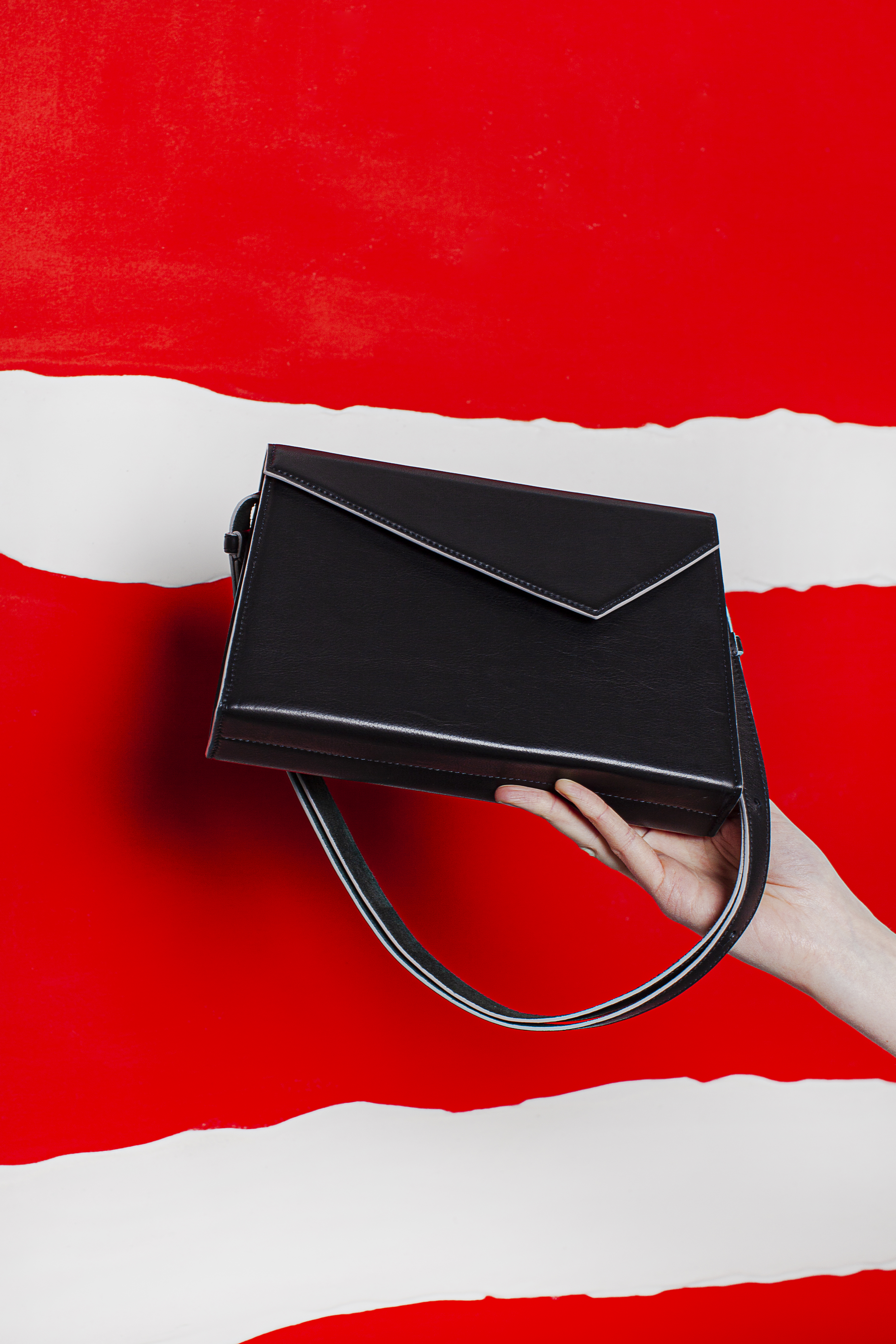 New classic
2020 - by Elenbaas Atelier - photography by Cindy Bakker
---
The new classic is the successor of the earlier classic. The bag shown in the pictures is made from a tangerine colored leather and most of the inner parts, like those of the flap and sides are in a dark green color. The edges provide a clear contrast due to the dark finish of edge paint. The interior has a cognac colored lining and features an extra zipper compartment. Finaly, the bag can be worn long or short by adjusting the strap.

A one-of-a-kind new classic bag in your own chosen color can be made by order. For information regarding price and color please send an email to info@elenbaasatelier.com

Handcrafted in Rotterdam workshop

Bag height 25 cm, width 25 cm, depth 7 cm

Nickel plated, solid brass hardware
Pocket
2019 - by Elenbaas Atelier - photography by Cindy Bakker
---
Inspired by the pockets of trousers and coats. The shape of the bag was created in a modeling manner. A designer's feature is clearly recognizable in a certain angle of the bag, which you can also find in other bags. The pocket shown in the pictures is made from moss green leather. The interior has a cotton lining in the same green color. The adjustable strap allows you to wear the bag both as a handbag and a cross body bag.

A one-of-a-kind pocket bag in your own chosen color can be made by order. For information regarding price and color please send an email to

info@elenbaasatelier.com











Handcrafted in Rotterdam workshop


Bag height 17,5 cm, width 28 cm, depth 6 cm

Nickel plated, solid brass hardware
Classic
2019 - by Elenbaas Atelier - photography by Cindy Bakker
---
Most praise for this bag should go to the refined closure. A special detail that has endured a long development process. The classic shown in the pictures is made from a combination of dark blue leather for the outside part and black leather for the inner flap. The interior has an ivory suede lining and features an zip compartment and two rings for attaching the strap. Finaly, the bag can be worn long or short by adjusting the strap.

A one-of-a-kind classic bag in your own chosen color can be made by order. For information regarding price and color please send an email to info@elenbaasatelier.com












Handcrafted in Rotterdam workshop

Bag height 25 cm, width 25 cm, depth 7 cm

Nickel plated, solid brass hardware

2020 - by Elenbaas Atelier - photography by Cindy Bakker
---